Dance Class Schedule
One-minute walk from Kagurazaka station on the Tokyo-metro Tōzai Line, Session House is offering high quality dance classes with teachers known as international dancer or choreographer. Classes take place on weekdays. On the weekends and holidays, we provide contemporary dance performances, workshops and other special events.
Here 3 remarkable points of Session House :
⦁Our instructors are professional choreographer or dancer.
⦁The studio where you join class becomes a small theater on the weekends. You have frequent opportunities to show up on stage !
⦁Classes are open to everyone. No reservations required.
Schedule is subject to be changed. Please CHECK HERE to confirm the changed class information. Thank you for your understanding.
【Contact】
Session House
158 Yaraicho, Shinjuku-ku, Tokyo 162-0805
2 minutes on foot from Tokyo Metro Kagurazaka Station
TEL 03-3266-0461
Email mail@session-house.net
Session House Dance Class
Ballet class
Contenporary dance class
Japanese dance class
Ballet for Kids
Special Workshops
Schedule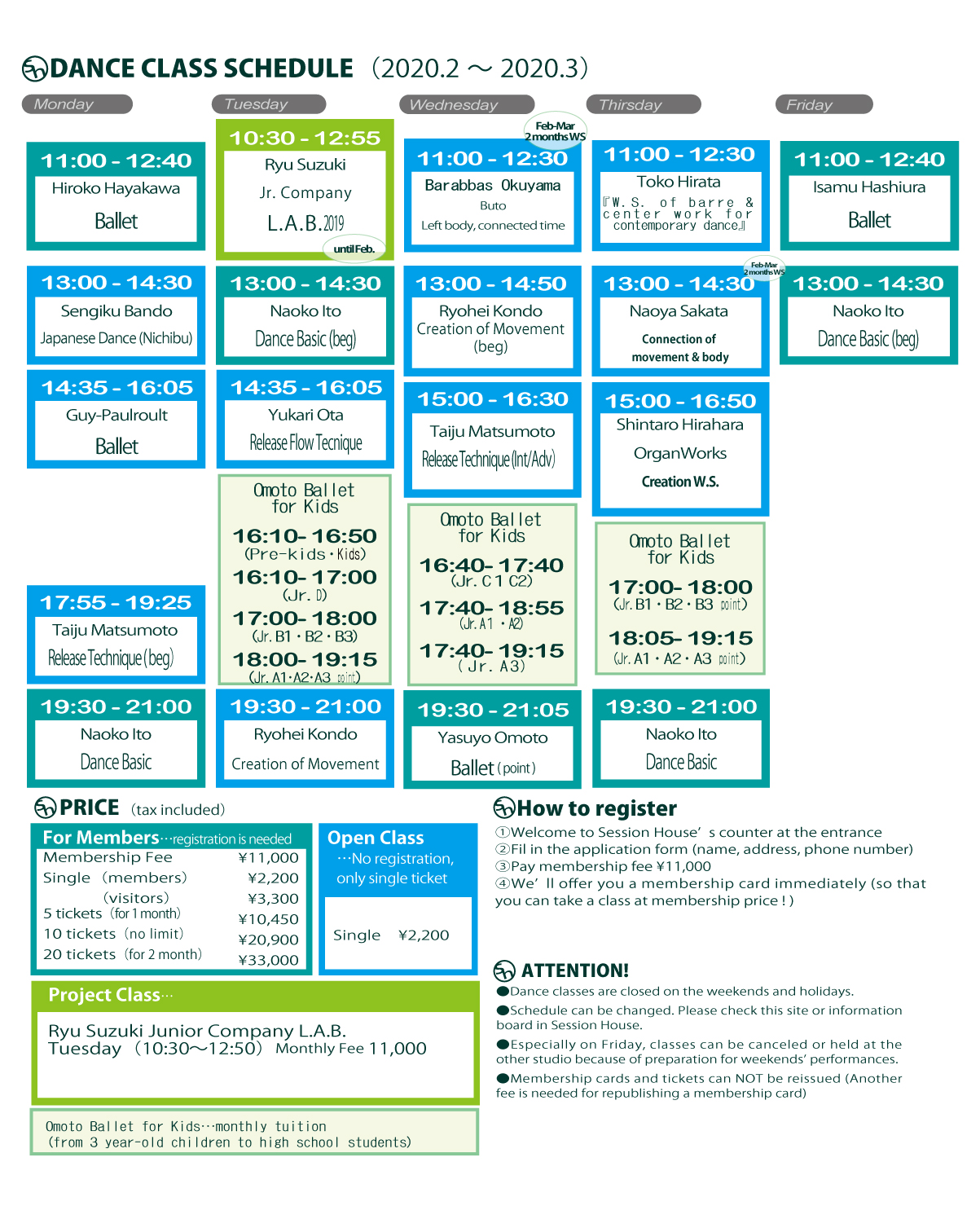 Fee (tax included)
Membership Fee JPY 11,000
Single (members) JPY 2,200
Single (visitors) JPY 3,300
5 tickets (valid for 1 month) JPY 10,450
10 tickets (no limit) JPY 20,900
20 tickets (valid for 2 months) JPY 33,000
Ryū Suzuki Junior Company L.A.B
Tuesday 10:30-12:50 JPY 11,000 /month
Omoto Ballet Class for Kids (from 3 year-old children to high school students) monthly tuition
How to register
Welcome to Session House's counter at the entrance
Fil in the application form
Pay membership fee JPY 11,000
We'll offer you membership card immediately ( you can take class at membership price)
Attention !
Dance classes are closed on the weekends and holidays.
Schedule can be changed. Please check this site or information board.
Especially on the Friday, classes can be canceled or held at other studio because of preparation for weekends' performances.
Membership cards and tickets can NOT be reissued (Another fee is needed for republishing a Membership card)
Session House Dance Class Teachers
Hiroko Hayakawa, Yasuyo Omoto, Isamu Hashiura, Guy-Paulruolt de st Germain
Yasuyo Omoto, Shigeri Ichikawa, Mika Kozonoi, Tomoko Kimura, Mai Nakajima, Katsuyo Saito, Minami Izutani
Naoko Ito, Ryohei Kondo, Taiju Matsumoto, Shintaro Hirahara, Yukari Ota, Ryu Suzuki, Ikuyo Kuroda
Sengiku Bando
Barabbas Okuyama, Naoya Sakata, Toko Hirata